Titanium (Ti-Bar)
Our titanium, Ti-Bar, restoration is a fixed hybrid denture. It is fabricated from a denture base acrylic and built on a titanium-milled bar. We design our fixed hybrid denture substructures using state-of-the-art CAD/CAM technology, ensuring a highly comfortable and secure fit for every case. Our team skillfully crafts these bars out of a solid block of titanium which provides a highly precise fit. These bars are all compatible with implants from all major manufacturers.
Features:
CAD

/CAM Fabricated
Precise Fit
Made out of Titanium
Compatible with All Manufacturers
Locator Overdenture
An implant-supported overdenture is a denture that rests over the top of one or multiple implants. Like their conventional counterparts, you can remove these dentures from your mouth. Implant overdentures differ from conventional full-mouth dentures in that they are connected to dental implants and are placed and anchored into the jawbone. This stability ensures lifelike function, so your patient forgets they're even wearing a prosthesis. Implant-retained overdentures click onto an abutment connected to the dental implant. This clicking into place creates a denture that will stay very still in the mouth.
Features:
Lifelike Stability
Easy Removal by Patient
Easy to Clean & Maintain
Superior Esthetics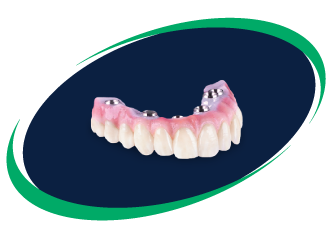 All-on-4®
The All-on-4® technique allows the patient to receive a full fixed screw-retained bridge on as few as four dental implants, often with same-day delivery. By taking advantage of the dense bone that remains in the anterior section of the arch and placing two posteriors at an angle to avoid the sinus cavities in the upper and the nerve in the lower grafting in many cases. This process makes it possible for patients to receive a non-removable bridge placed on the same day as surgery.
Features:
Utilizes as Few Implants as Possible
Full-Arch Restoration
Efficient Procedure
Immediately Loading